Eastern Cape Attractions
Baviaanskloof, Eastern Cape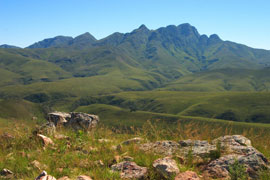 Once you've booked your hotel or Baviaanskloof accommodation explore our destination pages below for info on attractions and what to do in the Baviaanskloof Region.

There is a gorge that lies in the valley, stretching for over 100 kilometres, between the Baviaanskloof Mountains to the north and the Kouga mountains to the south. Recently awarded World Heritage Site status this 192 000 hectare u-shaped reserve lies about 120 kilometres west of Port Elizabeth and is named after the baboons that roam the area - a mix of the Dutch word 'baviaan' for baboon and the Afrikaans word 'kloof' for ravine.

Baviaanskloof, the area, includes the Karoo towns of Willowmore and Steytlerville as well as a number of small stock farms, and the little town of Patensie lies at the start of the gorge - the last stop, so to speak, before entering the wilderness of the Baviaanskloof. A single dirt road, which follows the dry river beds where it can, taking in some of the most breathtaking passes through mountains along the way, was built between 1880 and 1890 by Thomas Bain. It wends its way through the valley with no other access, in or out. With 42 river crossings, assisted only by causeways, all of which are liable to flood during heavy rainfall, your journey is bound to be both exciting and beautiful - an area awaiting discovery.

This land of raw wilderness with its rocky passes and rugged gorges can only be travelled from east to west or from west to east. Baviaanskloof offers hours of beautiful scenery - veld, indigenous forests, crystal mountain streams, sheer cliffs and waterfalls, and is home to an amazing diversity of plants and species - from yellowwoods to karoo bossies and fynbos. The best time to visit is in spring, before the heavy summer rains or in autumn before it gets too cold, and one should try to avoid long weekends or holiday seasons if one can.
Baviaanskloof
Destinations / Town & Suburbs of Baviaanskloof
Baviaanskloof
Featured and "Must See" Attractions in Baviaanskloof
Baviaanskloof
Featured Things To Do in Baviaanskloof
Baviaanskloof
Holiday Accommodation in Baviaanskloof
For accommodation in Baviaanskloof see:
• Gamtoos Valley • Steylerville • Studtis • Patensie • Willowmore

Or to see all accommodation in this region at once, visit Baviaanskloof Accommodation.

Did you know?
Whether you're in the mood for an informal seaside escape, an encounter with the "Big Five" on safari, or a choice of scintillating city diversions, you're sure to find what you're looking for in the Eastern Cape.
destinations / attractions in the eastern cape