Eastern Cape Destinations
Alicedale, Frontier Country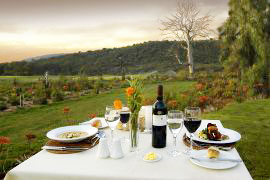 Once you've booked your Alicedale accommodation explore our pages for info on attractions and what to do in Alicedale.

Lovely Alicedale, in the interior of the Eastern Cape, lies in Bushmans River Canyon in the shadow of the Swartwatersberg hills, roughly an hour's drive from Grahamstown. This charming Victorian village that provides a real 'dorp' experience today served as the central railway junction for rail transport in the country up until the mid 1990s, where after it virtually died a death.

The main reason that Alicedale finds itself very firmly back on the map is a R25 million development, the Bushman Sands Country Estate, that included a regeneration strategy that saw almost 200 plots go on sale at an incredibly reasonable price with a nominal down payment resulting in something of a stampede as people rushed to live in Alicedale. Alicedale is quietly being restored to her former glory, and that includes the townships of Kwanonzwa, Kazi and Transriviere where residents have each been given 25 litres of paint and an indigenous tree.

The Gary Player golf course is a further temptation for avid golfers, whilst the breathtaking views from Alicedale of the hills from almost every edge of the village, and the lure of Bushmans River Canyon draws day visitors from Grahamstown. In store for the little town are a number of B&Bs, a sports complex, a bakery, butchery, art gallery, petrol station and craft market in the town square. And you can still take an old-fashioned train ride into Alicedale from Grahamstown through some of the most beautiful landscapes and an historical tunnel.
Get the Scoop
Alicedale Reviews

"There's not much to do within Alicedale itself, but we liked the serenity. It's close to the gold course, whch was our reason for coming down, so we could ..." - Maggie, Magaliesburg
Related Links
Featured Attractions in (or near) Alicedale

Steeped in history and beauty, this 6000-hectare game reserve creates an ideal environment for an unforgettable safari and an intimate experience of the varied landscape, including breathtaking views of the Bushman's River. Amakhala Game Reserve offers ... more information

Bushman Sands Game Reserve is situated on nearly 4000 hectares of former farmland. Bushman Sands game reserve offers malaria free sightings of the Big Five game. Working with Shamwari's conservation team, Bushman Sands have reintroduced indigenous animals to the reserve, restoring the ... more information

This 18-hole championship Bushman Sands Golf Course was designed by South African golfing legend, Gary Player. The course follows the banks of the Bushmans and New Years Rivers, resembling the game's earliest "links" courses in Scotland with undulating fairways and pot bunkers. Unique features at ... more information

Lalibela Game Reserves location in the Eastern Cape means it is not only malaria free, but spans 5 eco systems, resulting in a breath-taking diversity of plants, animals and birds. With the recent release of the African lion into the reserve, Lalibela now offers the ultimate Big 5 game viewing experience ... more information

The Makana Botanical Gardens, said to be the second oldest such gardens in South Africa and a national monument, lie adjacent to the Rhodes University campus in Grahamstown. They were established way back in 1853 and were the second garden established in the Cape Colony at the time. Given the beauty ... more information
Lying in a particularly breathtaking setting that includes five of the world's seven biomes, Pumba Private Game Reserve has a couple of major advantages: one, it is set in a malaria-free part of the Eastern Cape, and two, it provides really easy access to big game viewing, including the Big Five, making travelling to ... more information

Shamwari Game Reserve is the southernmost, Big Game, private reserve in Africa - Malaraia Free. This ultimate African adventure stretches along the Bushman's river, halfway between Port Elizabeth and Grahamstown, and forms a natural extension to the famous Garden Route. The 25 000 hectare game reserve ... more information
Related Links
On Holiday in Alicedale
• Alicedale Accommodation
• Alicedale Hotels
• Frontier Country Accommodation
• Frontier Country Hotels
• Eastern Cape Accommodation