South Africa Outdoor Activities
Skydiving in South Africa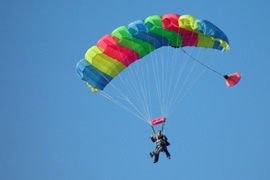 Sky Diving in South Africa - Only for those seriously hooked on adrenaline, skydiving in
South Africa
is arguably the most excitement you can have on a plane ... or jumping out of it. Armed with your parachute and some goggles, you hurl yourself out of a plane flying thousands of feet above the ground and plummet down towards the earth. At just the right moment, you pull the chord and your descent is stopped as your parachute unfurls and you slowly float down to solid ground.
Admittedly, the first time you try skydiving, you'll be doing more screaming than taking in the scenery, but after a few jumps, you'll be more relaxed and able to gaze at the wonders of South Africa from a vantage point that not many will get to see. South African skydiving has a huge following and as such has a well established commercial sector which will enable seasoned professionals or keen novices to experience the absolute thrill of skydiving in South Africa.
On a
Cape Town
skydiving excursion, you will see the beautiful city sandwiched between the towering
Table Mountain
and the bustling
Table Bay harbour
. To the far side of Table Mountain lies False Bay,
Hout Bay
and the grandeur of the South Peninsula as far as
Cape Point
. To the West, you will see
Robben Island
and the Atlantic breaking on the beautiful
Cape West Coast
. To the North is the
Langebaan
lagoon which is a great
kite surfing
and
windsurfing
location. Picture yourself enjoying a thrill packed skydive over these magnificent terrains and then relaxing on a beautiful wine farm or sipping a refreshing and well deserved cocktail on
Camps Bay
Beach.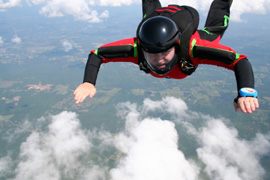 If you're brave enough to do skydiving, but not sure if you can manage it on your own just yet, then sign up for a tandem or static line skydive. Tandem skydiving allows you to experience the thrill of free fall without the effort of learning all the theory. You will be strapped to a Tandem Instructor with a special harness that is attached to a specially designed parachute large and strong enough to support both of you. Once out the plane, you freefall at around 120kph - 200kph, falling for approximately 25 seconds from 9,000ft or for about 35 seconds from 11,000ft. The Tandem Instructor opens the parachute at about 5000ft, and a peaceful 3-4 minute parachute ride to the ground follows. If you would like to capture the moment, most South African skydiving establishments can organize a video cameraman who can accompany you on your jump.
EP Skydivers is situated in the picturesque town of
Grahamstown
and has been in business for over 30 years. They have highly trained instructors and jumpmasters at your service. Members get personal attention at all times, which enhance your progression and safety. South African skydiving professionals can also try their hand at formation jumps in the
Pretoria
area.
If your stomach can handle the thrill, then there is no doubt that skydiving in South Africa will give you the time of you life. Be prepared for an adrenaline pumping skydive over the wondrous landscapes in South Africa.
South Africa Outdoor Activities
Featured Skydiving Destinations


Combine your wildlife safari with a relaxing, revitalising visit to a health spa ... and enjoy Africa at its finest. View our exclusive collection of spas, wellness centres and health resorts in South Africa.