South Africa Outdoor Activities
Running in South Africa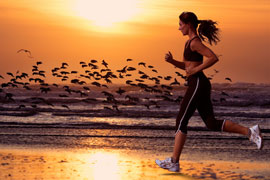 Running in South Africa (Road Running and Marathons) - The beauty of South Africa's landscapes make for some of the most stunning road running opportunities in the world. With sea side stretches of road like
Chapman's Peak
, and mountain passes like
Sir Lowry's Pass
, lovers of the open road have a smorgasbord of breathtaking road running routes.
Whilst the
Cape Town
coastline offers spectacular routes that combine long flat stretches and challenging climbs, other inland regions provide majestic mountain routes that wind almost endlessly over peaks, through valleys and amidst glorious vineyards. Lovers of running - solo or in competition - will be amply satisfied with the choice of incredible routes that
South Africa
has to offer.
South Africa has acquired a global reputation for its hosting of the
Comrades Marathon
. Run every year during June, thousands of participants make the challenging journey from
Durban
to
Pietermaritzburg
. The South African Comrades Marathon covers approximately 87 kilometers and it's no walk in the park. Five major hills, known as the 'big five' of the South African Comrades must be conquered before reaching the finish line in Pietermaritzburg.
The somewhat nasty twist on this Comrades Marathon route is the final hill, 7 kilometers from the finish, known as Poly Shorts. Whilst it's only a 1.8km stretch, you're rising nearly 100m in altitude! Bearing in mind that by this point, you've already done 4 huge climbs and covered 80 kilometers, this last climb proves just too much for many a runner. The stunning scenery and challenging route of this South African Comrades Marathon have helped it create a global appeal which can be seen through the growing numbers of participants from all over the world each year.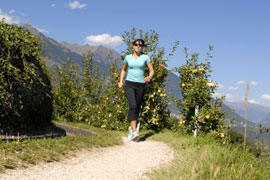 Another marathon with global appeal is the
Two Oceans Marathon
. Hosted in the beautiful sea side city of Cape Town, the Two Oceans marathon attracts some 20 000 participants who willingly take on 56 kilometers of open road and challenging mountain climbs. An interesting feature of the route of Two Oceans Marathon, is as the name indicates, it passes both oceans surrounding the South African shoreline - the Indian and Atlantic Oceans. It is therefore as stunning as it is challenging.
Runners will be begin their journey in
Newlands
and head out towards
Noordhoek
. It's then that the most spectacular portion of the marathon begins - Chapmans Peak. The Two Oceans Marathon route didn't include Chapmans Peak for a few years because of the danger of regular rock falls that led to the closure of this mountain pass. However, R156 million and a few engineering and construction feats later, Chapmans peak was reopened and was re-included into the Two Oceans Marathon route - much to the delight of regular entrants.
The toughest part of the Two Oceans Marathon, is undoubtedly the mountain climb known as the 'Suikerbossie Pass'. After you've enjoyed the scenery of Chapmans Peak and you've passed through the relative flats of Hout Bay, every ounce of remaining energy will be used as you climb this monstrous hill. The screams of supporters will edge you on to the top of this hill where you're greeted by the welcome sight of the Atlantic Ocean.
The unique landscape and utterly breathtaking scenery that
South Africa
has to offer will leave you with more choices than you can handle for awesome road running. Why not start your training now and come join us at the next South African Marathon event?
South Africa Outdoor Activities
Featured South African Marathons

Where: Pietermaritzburg
When: Annually in May

The world's greatest ultra-marathon, 90 kilometres long, the Comrades is a South African institution, internationally recognised for the body-sapping ... more information

Where: Cape Town
When: Annually in March/April

A marathon with global appeal is the Two Oceans Marathon. Hosted in the beautiful sea side city of Cape Town, the Two Oceans marathon attracts some ... more information

Where: Clarens
When: Annually in March

The Surrender Hill Marathon is a qualifying race for Two Oceans Marathon in the and the Comrades Marathon. Distances are 42km or 21km ... more information

Looking for Things to Do in South Africa?
Search for extreme adventure destinations (and service providers), site seeing cruises, scenic flights and many, many other activities ... See
Things To Do in South Africa
.

South Africa Car Hire
Hire from international and local companies, offering a wide range of cars, from budget to luxury groups.