South Africa Outdoor Activities
Hiking in South Africa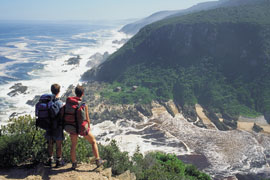 Hiking in South Africa - South Africa boasts absolutely exquisite and picturesque terrains. Whilst modern advancements allow for such scenery to be viewed from the comfort of a 4x4, most prefer to explore this rugged beauty, on foot. Hiking in South Africa around the phenomenal mountain ranges is sure to be an unforgettable experience.

The Western Cape offers the most varied and interesting concentration of hiking trails in the world. Admire mystical mountain ranges including the renowned Table Mountain and the Cederberg whilst discovering the indigenous fauna and flora, blossoming wine farms and vineyards, lush forests, waterfalls, craggy cliffs and beautiful sandy beaches. KwaZulu Natal offers the magnificent and renowned Drakensberg Mountain Range. Besides the panoramic views there are also stunning waterfalls, indigenous forests and magnificent escarpments to boot.

The Tsitsikamma coast offers the most popular hiking trails through lush forests, sandy beaches and magnificent mountains that all breathtaking views. The Otter Trail is probably the most popular hike in South Africa. Lush forests, rugged shorelines, mountain streams and waterfalls and fragrant fynbos make this an exceptional South African hiking experience. It is quite strenuous and not for the terribly unfit. Any of the accommodation in Tsitsikamma can put you in touch with the right people to arrange this hike.

For a scenic trail but with fewer struggles and more strolling, try the Dolphin Trail. The Dolphin Trail passes through similar terrains to the Otter and joins up with it in places. Instead of staying in huts, you will stay in fully catered guest houses in Tsitsikamma with awesome views and great food. Your pack is transported to your next overnight spot by vehicle and you carry only a day pack with lunch, water, camera and swimsuit.

The Wild Coast of the Eastern Cape offers spectacularly different scenery including miles of deserted beaches, wave-lashed rocks and tropical forests - all making for an invigorating South African hiking experience. There are miles and miles of unspoiled hiking trail passing through high mountains, deserts and forests.

There are hiking clubs in each city of South Africa all offering great company and fantastic hiking trails. Most accommodation in South Africa offer awesome hiking trails through incredible terrains. So why not take a weekend to breathe in the fresh mountain air, whilst admiring the scenery during a South African hike. Hiking in South Africa promises to be an awesome experience.
South Africa Outdoor Activities
South African Hiking by Province
South Africa Outdoor Activities
Featured South African Hiking Trails


Regional, relief and street maps, as well as maps highlighting the attractions, world heritage sites, game reserves, golf courses and more in each region .... over 200 maps to help you explore South Africa.
South Africa Car Hire
Hire from international and local companies, offering a wide range of cars, from budget to luxury groups.
Combine your wildlife safari with a relaxing, revitalising visit to a health spa ... and enjoy Africa at its finest. View our exclusive collection of spas, wellness centres and health resorts in South Africa.